Dental Implants

in the Pacific Northwest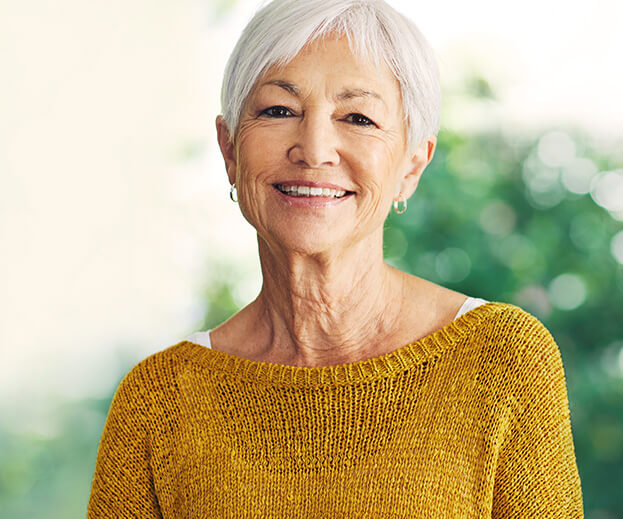 If you need to replace a single missing tooth, or a string of teeth, dental implants are the closest thing to the real deal. Dental implants are one of the most versatile restorations available in dentistry. They can be used to replace teeth anywhere in your mouth, or to hold dentures in place. You can get one implant or many. They can be used to restore function to your smile or to fix a problem for purely cosmetic reasons. Whether your missing tooth was due to a bad encounter with a baseball as a youth or is the result of some other form of tooth breakdown as an adult, a dental implant can restore your smile.
Book Appointment
See What Dental Implants Can Do For You!
Are you looking into dental implants but not quite sure how they'll fit your smile? Our Pearl District, Lake Oswego, and Bellevue offices now have the capability to enhance your smile digitally. Just submit your information and a photo below and we'll send you back the new and improved version!
When snapping your photo, please turn the flash on and place the camera about three feet away from your face. Smile as big as you can looking straight ahead!
Photo Example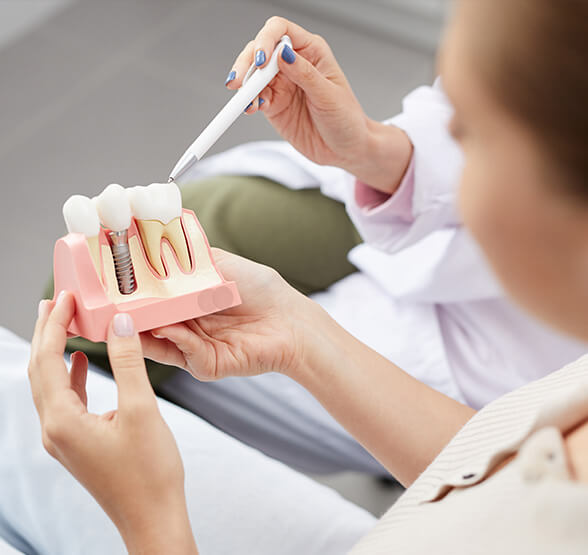 What is a

Dental Implant?
A dental implant is a biocompatible titanium post that is surgically placed into your jawbone to replace the root of your missing tooth. During the healing period, the bone will fuse to the post and incorporate it into the jawbone, maintaining bone density and retaining the natural shape of the face. The top of the post is fashioned so that a dental crown, dental bridge or denture can be attached to finish off the restoration. While the dental implant is virtually the same for everyone, the restoration is unique to each individual depending on their particular smile requirements. Check out our Gallery of Smiles to see some of our happy dental implant patients!
Gallery of Smiles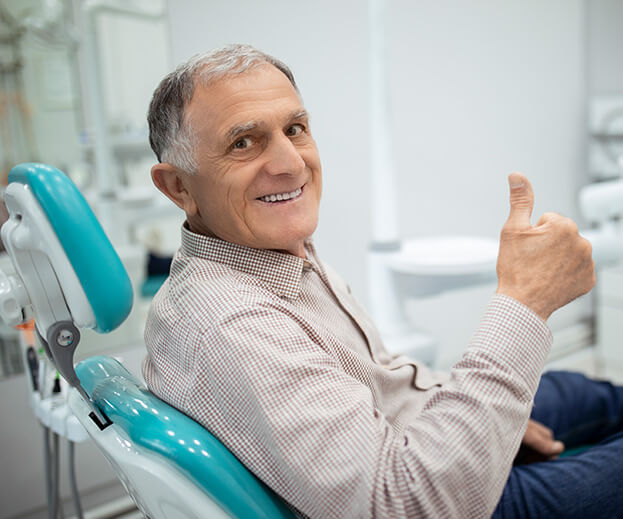 Advantages of

Dental Implants
Dental implants are a long-lasting solution to missing teeth.
The titanium post replaces the root so adjacent teeth don't shift around.
Because the restoration is permanently fixed, it looks & feels completely natural.
Dental implants prevent facial collapse due to tooth loss.
The strength of implants helps prevent bite & TMJ problems.
Dentures supported by implants are more stable.
Dental implants are easy to take care of with regular brushing & flossing.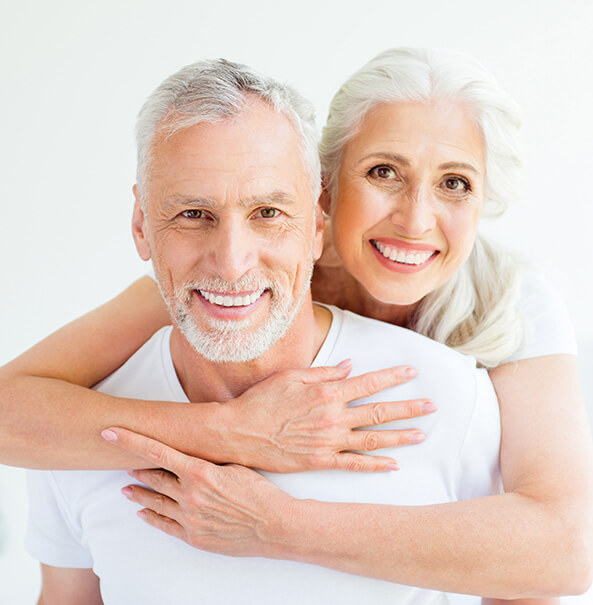 Who Is a Good Candidate

for a Dental Implant?
Dental implants work for most people but there are a few requirements to ensure success. A candidate needs to be in good physical condition with healthy gums and adequate bone density. Even these few obstacles can often be overcome with periodontal treatment to heal gums and a bone graft to increase bone density. A consultation with our experts can determine your eligibility. We use the latest technology to plan your treatment, including 3D cone-beam imaging and digital planning software.
Schedule a Consultation Today