Compassionate Bellevue Dental Care

in a Relaxing Dental Spa
We agree with the research that consistently counts Bellevue as one of the best places in the country to live and work. This isn't surprising when you consider the small-town feel and expansive system of parks, trails, woods and open spaces. We especially appreciate its diverse and culturally rich population. Our beautiful city of Bellevue deserves a dental spa that reflects its surroundings. At Optima Dental Spa, we have team members who speak Russian, Romanian, Spanish, and French. Even though our spa offers amenities one might expect in a large, cosmopolitan city, you'll be treated with home-town hospitality and compassion.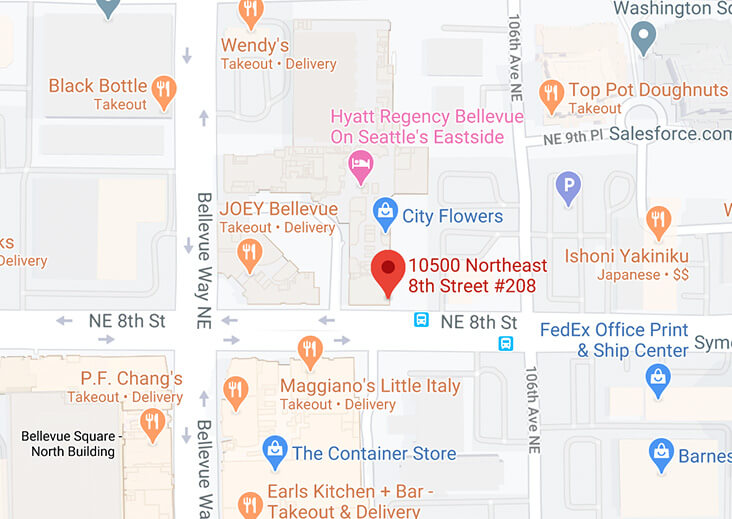 10500 NE 8th St., Suite 208, Bellevue, WA 98004
Office Hours
Mon-Wed: 8AM-6PM
Thur: 8AM-5PM
Fri: 9AM-2PM
Meet Our Bellevue Dentists
First Class Dentistry in Bellevue, WA
Dental Cleanings & Exams
Dental Sealants & Fluoride Treatments
Oral Cancer Screening
Gum Disease Treatment
Sleep Apnea Treatment
Facial Esthetics
Gum Contouring
Composite Fillings
SMART (Safe Mercury Amalgam Removal Technique) Filling Replacement
Tooth Extraction
And More
Payment Options
Optima Dental Spa services are first class but it's important to us to make sure they are still affordable. Our Bellevue office is insurance-friendly, plus we also accept CareCredit–the healthcare credit card that offers zero and low interest loans. However, one of the best deals in the house is our own in-house Dental Savings Plan. This budget-friendly health insurance alternative covers preventive care and offers generous discounts on many other treatments to members. You might decide to opt in and say goodbye to the hassles of traditional dental insurance! When you consider the benefits and discounts, it adds up to a considerable savings.
Make a Payment
FREE
CONSULT FOR IMPLANTS
FREE


LASER TEETH WHITENING AVAILABLE AFTER NEW PATIENT CLEANING, EXAM & X-RAYS
FREE


TEETH WHITENING FOR LIFE AVAILABLE AFTER NEW PATIENT CLEANING, EXAM & X-RAYS
$299


IV SEDATION FOR NEW PATIENTS ONLY – DOES NOT INCLUDE SEDATION FOR A CLEANING