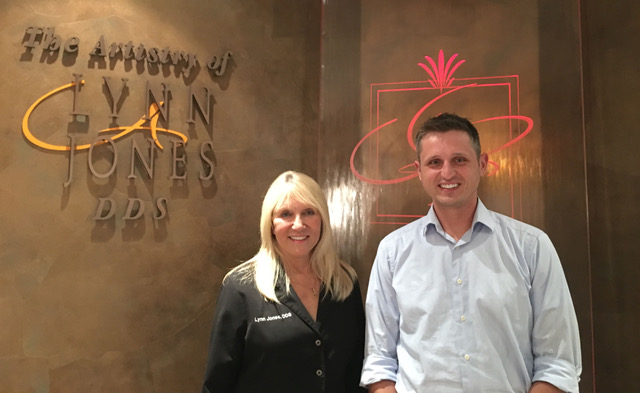 Cody felt that people used to perceive him in a negative way because of his reluctance to show his smile.  Dr. Jones' Minimally Invasive Bespoke Veneers were the right solution to transform Cody's discolored smile into a confident smile!
Patient Testimonial By Cody B.
"As a child, I was prescribed frequent regimens of tetracycline that permanently stained my  teeth. I was periodically teased about the color of my teeth, and I quickly became self-conscious about my natural smile. Although I've been fortunate and successful in life, I felt like the first thing everyone noticed was my discolored smile."
"When I was around 12 or 13, my parents brought me to Dr. Jones to have my teeth laser-whitened because they knew how much it bothered me. The whitening helped but, as predicted for my case, could not eliminate the stains on my teeth.  Since there was nothing else that could be done at the time, I felt stuck with the smile I had."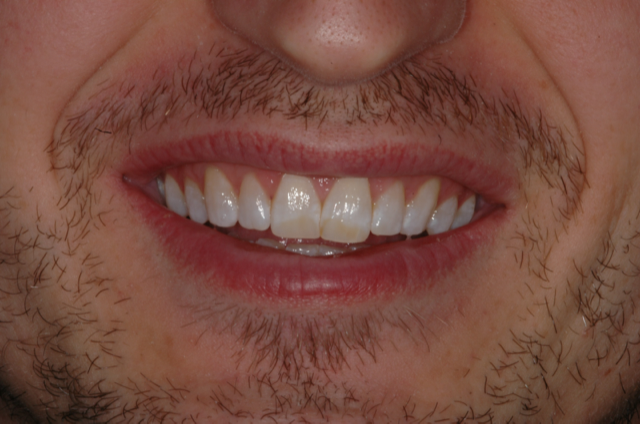 "My reluctance to smile didn't go away when I became an adult. As a result, people often believed me to be a much more 'serious' person than I actually am because I wouldn't always smile in scenarios where it was appropriate to do so. I felt sad knowing that acquaintances would walk away with this view of me that I didn't feel matched who I really was. I feel like it negatively impacted my social opportunities."
"I had always wanted veneers because I knew that it would be a permanent solution to this problem. Aside from the teeth that I had always wanted, I wanted the confidence to smile without being  painfully aware of the staining on my teeth. But it's easy to delay doing something about a problem that has been bothering you forever."
Why Did You Choose Dr. Jones?
"As I was headed to dinner one night, I saw Dr. Jones' sign in the same building. The name clicked  and I remembered that she was the cosmetic dentist my parents trusted to whiten my teeth when I was younger. After doing some research online, I found overwhelmingly positive reviews for Dr. Jones and her cosmetic dentistry. Dr. Jones' office is  located in an area where a dentist performing mediocre work probably wouldn't last very long. These factors, and  knowing that she had been in business for as long as she  had, led me to trust that going with  Dr. Jones gave me the best chance at achieving the desired result with my investment."
What Has Happened Because of Your New Smile?
" My willingness to smile immediately came back, and I feel like that  is increasing daily as I get more used to the fact that I actually do have nice teeth now! I've noticed a change in my interactions with people. Because I am more at ease, they seem to be more at ease. Ultimately, this was about creating a change that I felt would assist me in expressing who I really am."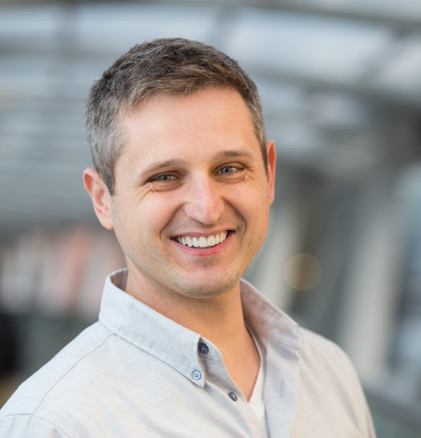 From the desk of Dr. Lynn Jones:
Cody's Treatment
"Cody came to us with permanent discolorations on his teeth that were not uniform in color or tone. Whitening treatments could lighten the stains, but they were too deeply embedded for any whitening treatment to erase them completely. Other than the cosmetic stains, Cody's teeth were perfectly healthy. As I examined Cody's case, I noticed that his smile aesthetic could be improved with micro changes in the size and shape of his smile profile.
"Our goal was that only Cody's family and closest friends would notice that his stains were gone and that his smile was more attractive, never discerning exactly how or why his personal presentation was "somehow" enhanced, positively affecting every interaction and photograph."
"We chose my   Minimally Invasive Bespoke Veneers for Cody's treatment–the same kind often used by executives preparing for a high profile career, models, politicians, and celebrities. In addition to instant whitening the same day they are applied, veneers can be custom-crafted to correct any size or symmetry problems, create more volume, or add "presence" with micro-changes. In Cody's case, we felt this would be a perfect and yet nearly undetectable enhancement to his natural smile."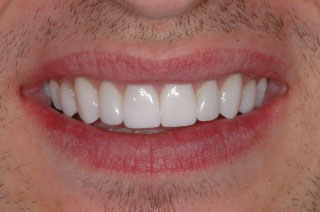 "I collaborated with Cody, listening to his needs, sharing possibilities, giving counsel and making recommendations to help him choose the best options for him, until we came to a shared vision for his best smile. Then, I presented him with images and asked him to choose from several designs I created that would give him a different look, feel, and presence both in person and in photos."
"I then crafted temporary veneers in the design, color palate, texture, and finish of Cody's choice for him to wear out into the world for a short time to experience the look and feel that his custom veneers would offer, before he gave his final approval and we created the veneers that would help him to achieve his own vision for his best smile."
About Minimally Invasive Bespoke Veneers
"My Minimally Invasive Bespoke Veneers are custom-crafted for the needs and desires of every patient. Using the latest in computer design technology, I work collaboratively with laboratories known for excellence in engineering and craftsmanship. They also have a history of precision to my rather exacting specifications, using only the finest materials with the goal of creating results that exceed my patients' expectations."
"This cosmetic treatment requires no drilling and very minimal shaping of the patient's natural teeth. They are thin, durable, metal-free, and custom-made to top a natural healthy tooth, not replace it. They are made from a single block of premium-grade ceramic that has been harvested for its toughness, durability, and opaque qualities, which has made it a breakthrough in dental technology. The result is a smile that is tough and enduring while still looking delicate and natural."
Meet Lynn A. Jones, DDS
Dr. Lynn A. Jones is the only accredited female cosmetic dentist in Washington, Oregon, and British Columbia. She has been awarded the coveted Gold Medal in smile design from the American Academy of Cosmetic Dentistry and has been voted Best Cosmetic Dentist in Seattle every year for the past 8 years. She has earned more 5-star reviews than any cosmetic dentist in the Pacific Northwest.
Minimally Invasive Bespoke Veneers are just one solution in Dr. Jones' extensive palate of services, technology, and materials for designing or perfecting your best smile. Every day, she improves the lives of her patients by creating beautiful stress-free smiles.  Even one or two porcelain veneers or ceramic veneers can allow a patient to experience the freedom and confidence they need to reach their highest potential at work and in their personal life.
Are you ready to unleash your potential with your most powerful smile? Visit our Bellevue dental office for a free cosmetic consult so Dr. Jones can help you discover treatments that can enhance your smile. Even small changes can lead to surprising and life-changing results! Call us today at 425-688-1345.